I really can't believe it.....
Banger passed away last night.
I'm sure you all know
just
how much our little pooch meant to us...and how unfair it is still seeming to me and Jono right now.
I think it's helpful for me to write down what happened, but I know it will be hard reading for some who have also recently lost their little balls of love.
(
Collapse
)
It is really, really hard for us right now, I still don't feel like its truly sunken in yet either. Frankie seems a little oblivious right now, but I've caught him a couple of times looking through the stairgate, presumably to see if Banger has been lucky and escaped into the hallway! He has been following us round and giving us kisses and licking our tears though.
We are going to see Banger at 12noon. I just feel I want to give him a final stroke and a kiss and say Goodbye. We have to phone the pet crematorium and organise that too. We are going to have him cremated and then one day when we feel we are ready, we will let his ashes run free like he loved too.
Give your pooches an extra tight hug from me Jono and Frankie
xxxxxxx
I'm putting my favourite ever photo of him here and perhaps in a few days I will be able to post more.
Rest in peace my little one, we'll
never
forget you and the great times you gave us.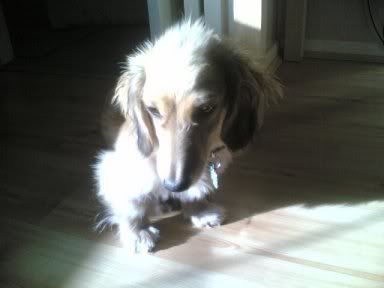 ----------------------------------------------------
Added here, but I can't backdate, as Banger belongs here.