Hello all....who you've been waiting for....
Pepper!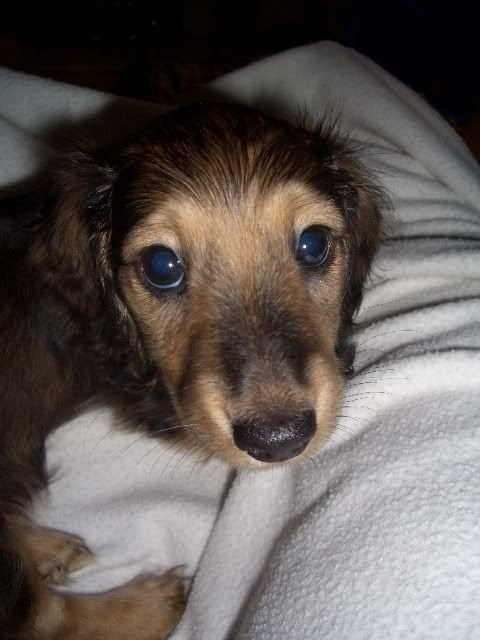 There are plenty more pics and my homeward story under the cut!



We decided on Pepper a couple of weeks back and kept in good contact with the breeders, Liz and Sarah, who sent us these lovely pics of him:

When they had their fist meal: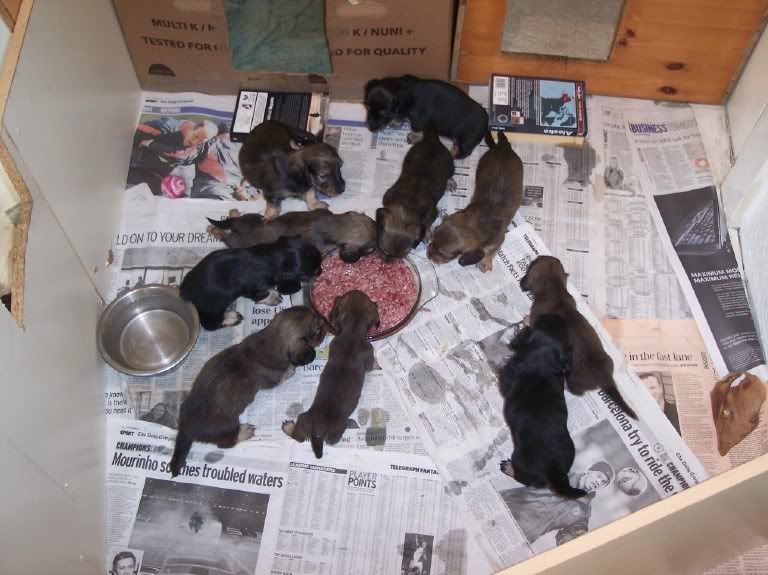 Sharing the bed: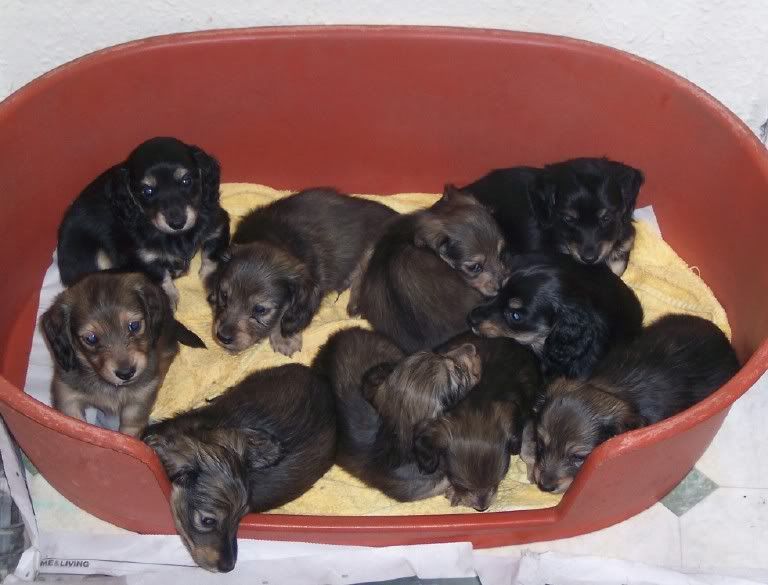 Having fun!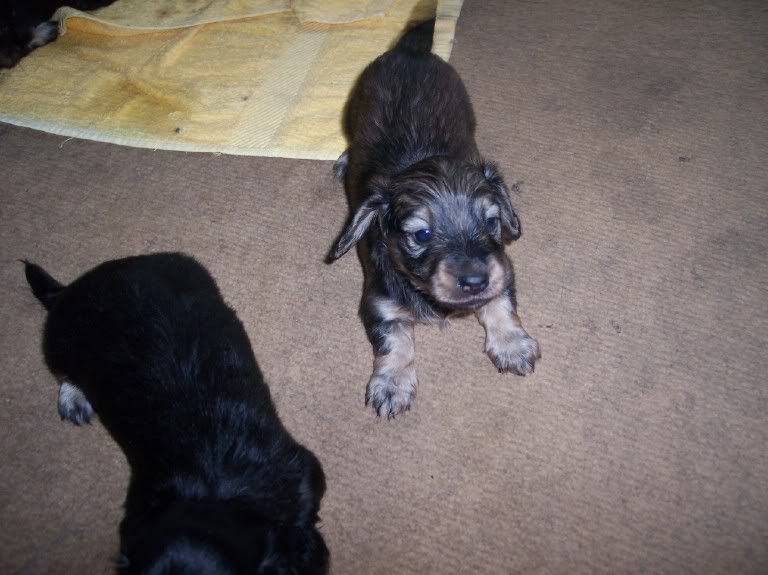 We couldn't wait to meet him, and last weekend we headed down to Liz and Sarah's house to get him. When we went in we were met by this lovely site: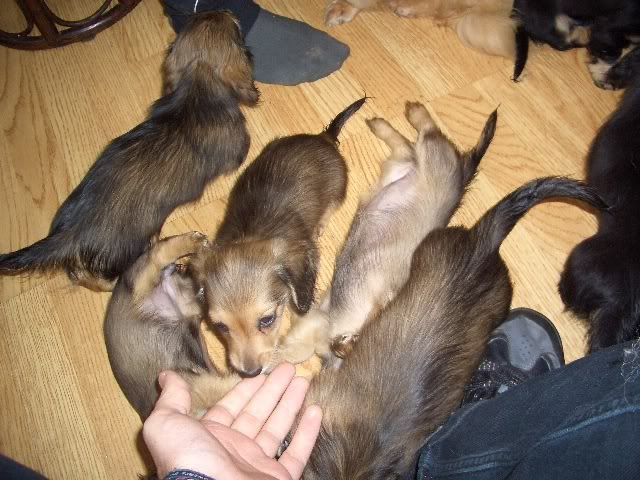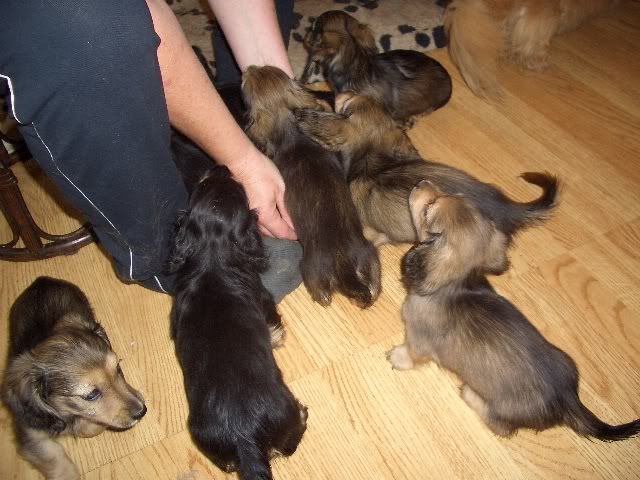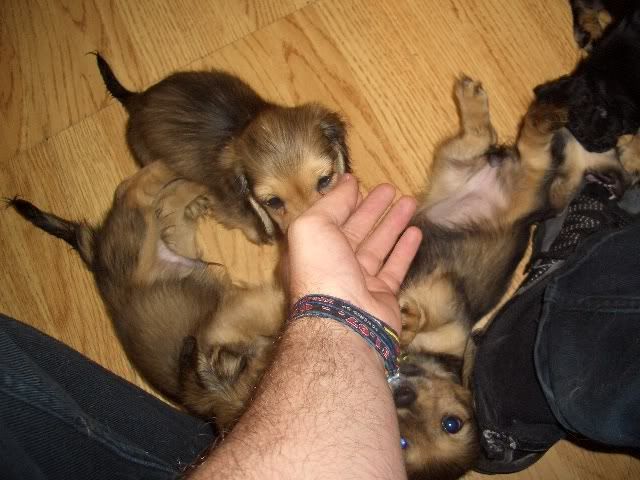 Sea of doxies was just the phrase for it; all 10!! puppies, their 2 mums, and their 2 grandmas were very excited to see us and proceeded to bite our fingers and shoes, and roll over for belly rubs:

This is Tilly, Peppers Grandma, obviously saying 'put that damn camera down and give me a belly rub!'



And this is Shannon, Peppers pseudo-Grandma, again waiting for a belly rub hee!: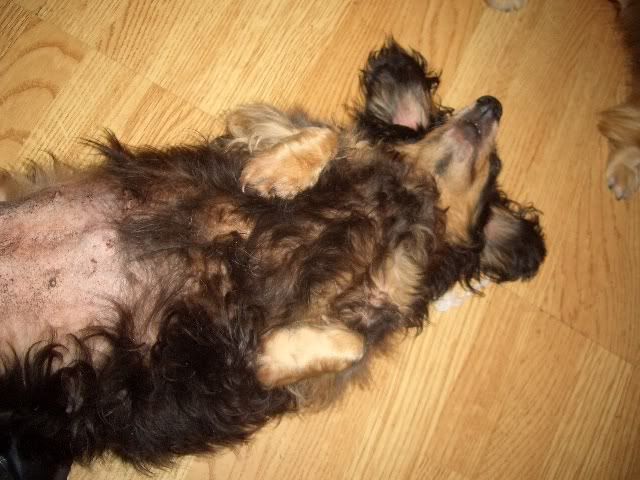 Then....when they'd smelt us all and knew we were ok, we picked up Pepper and gave him some loves, while he gave us lots of kisses!

Me and Pepper: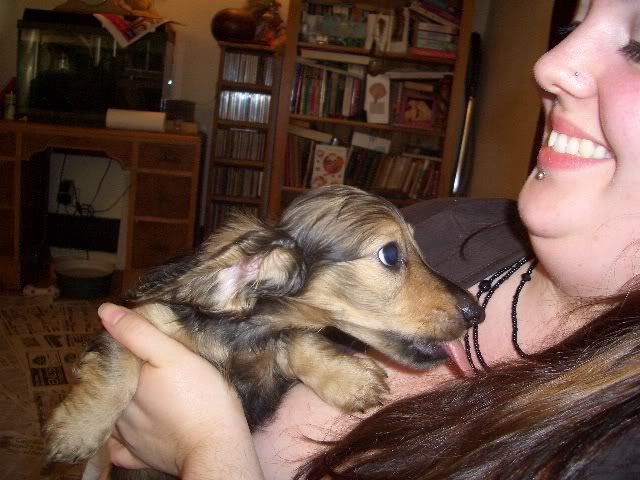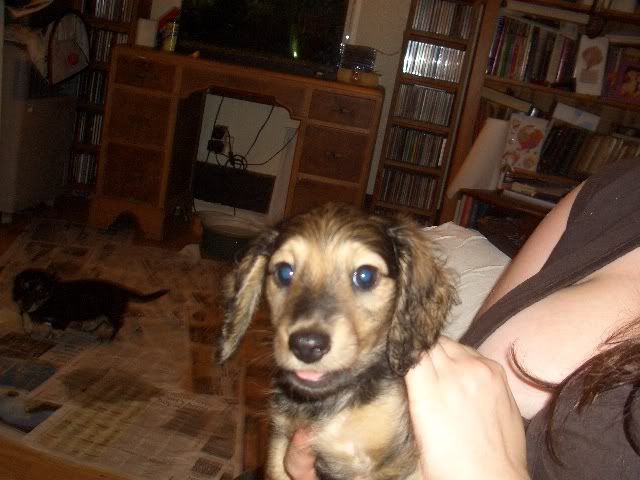 Jono and Pepper: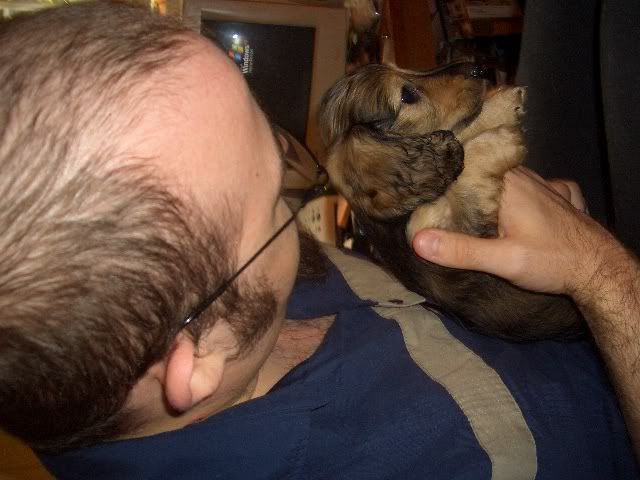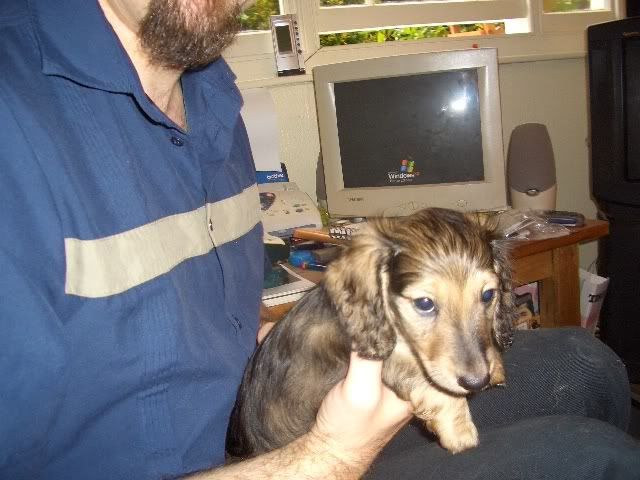 Then the pups were very tired, and all went for a snooze...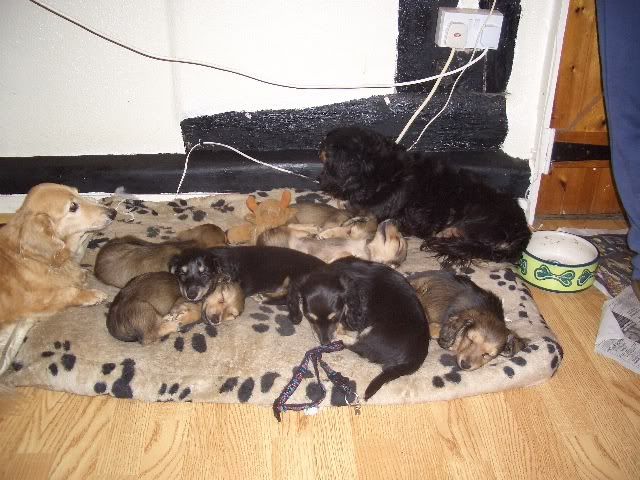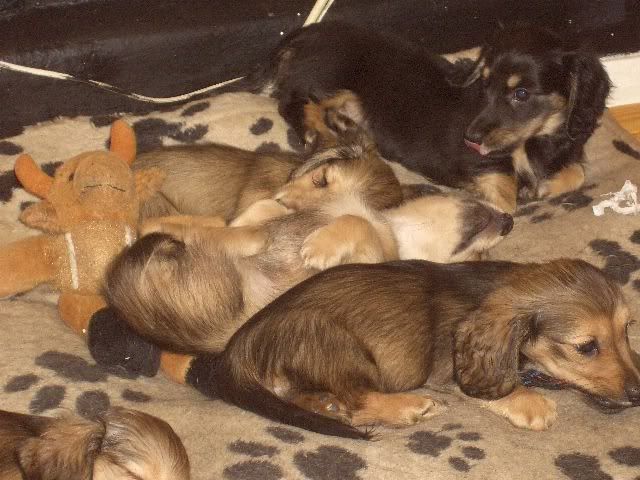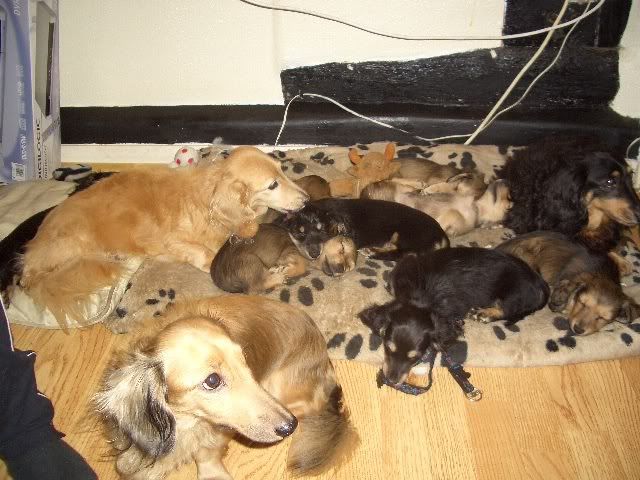 ...so we got some pics of the mums, even though they were very shy and didn't want them!
This is Peppers mum, Abi - doesn't she look like Banger? She had the cream pups: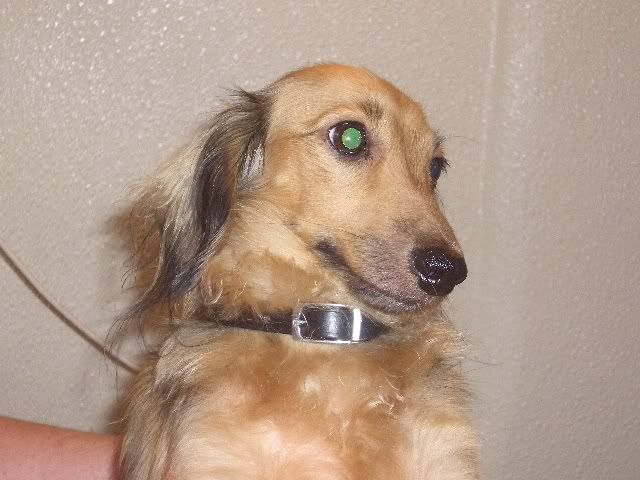 This is Meg, Pepper's pseudo mum, who had the black and cream pups (and I think one of the shaded creams),sat on Liz's lap:



Look at these cutey pies sleeping all cuddled: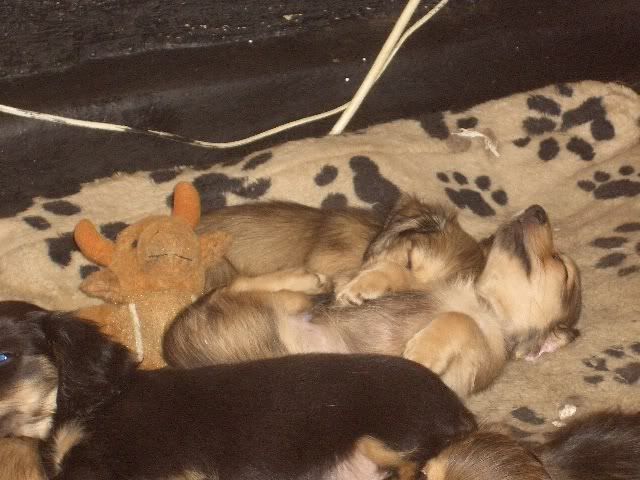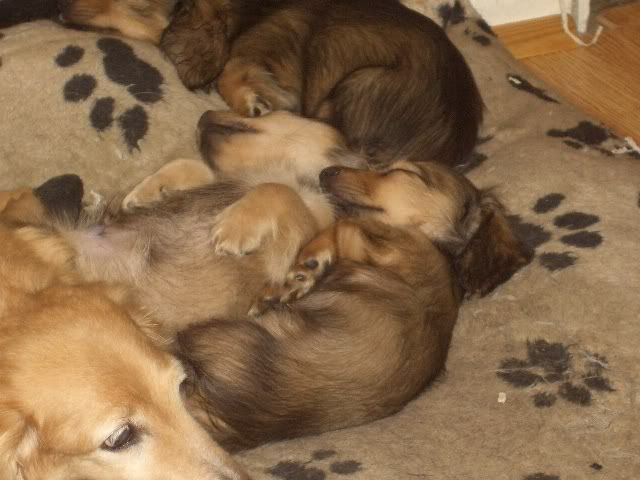 One of the cutey girls who loved belly rubs!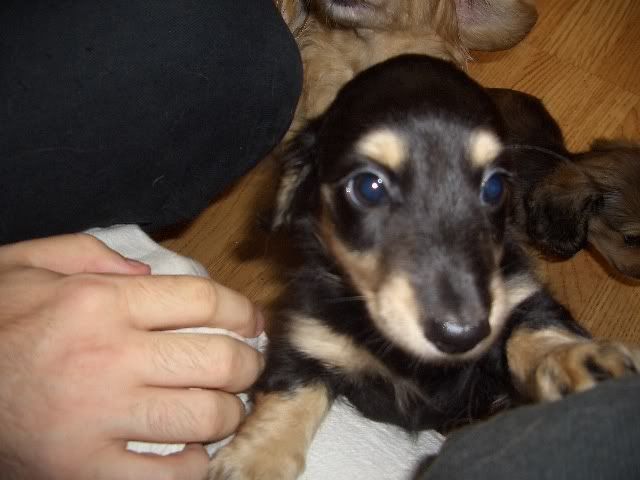 ...and this one is sure to be a little diva!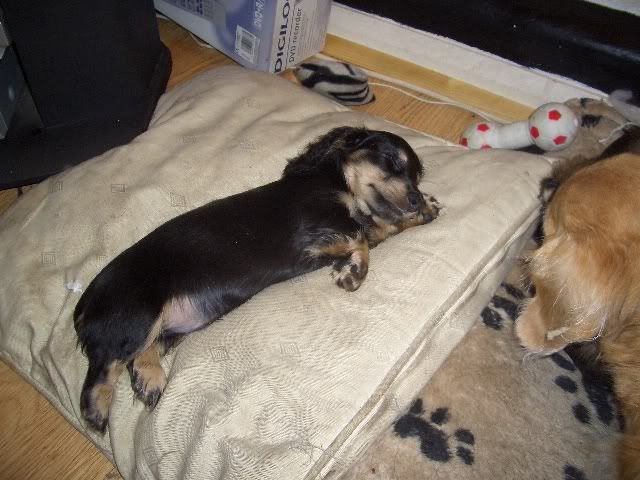 It was then time to make a move, so that 'Denzel Washington' (how cool is that?!), one of the other pups could have some attention with his new owner. We scooped Pepper up and headed on to my parent's house who had been looking after Frankie....who was, shall we say, not too happy about this new little bundle of love! He kept growling at him, and generally didn't want to be near him at all....Pepper mainly ignored his growls and still tried to make friends, so there was a lot of bum and ear sniffing going on.

Pepper of course mainly did this after his busy morning:



With my mum: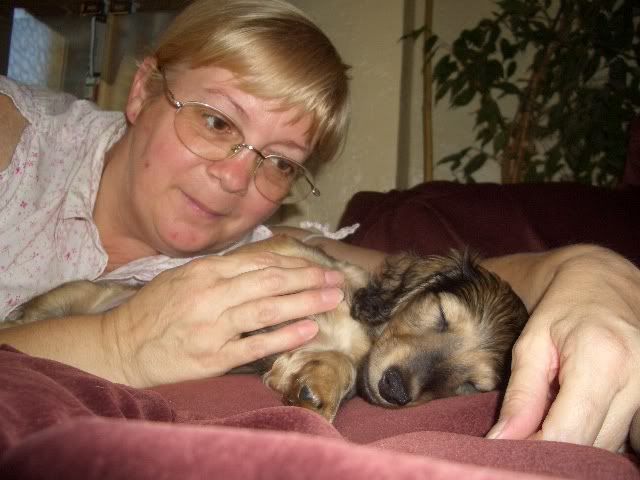 When he was awake....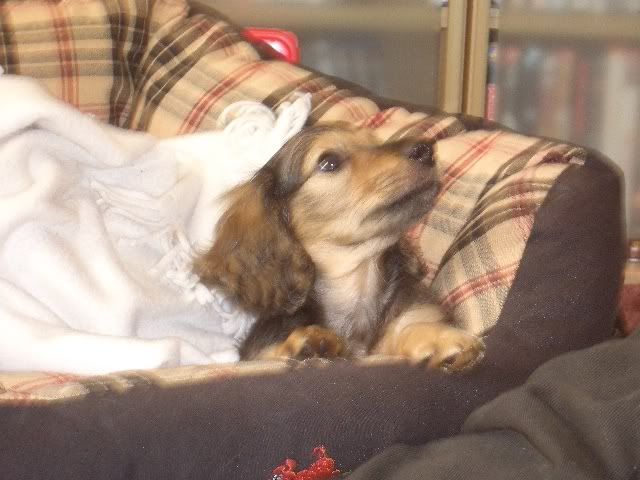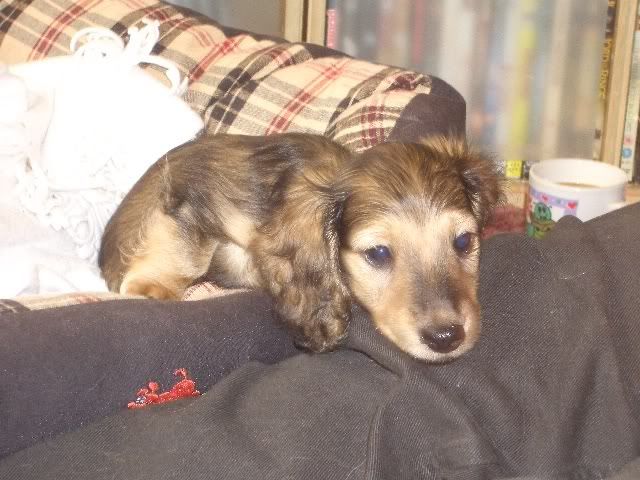 ....to move to the floor to sleep!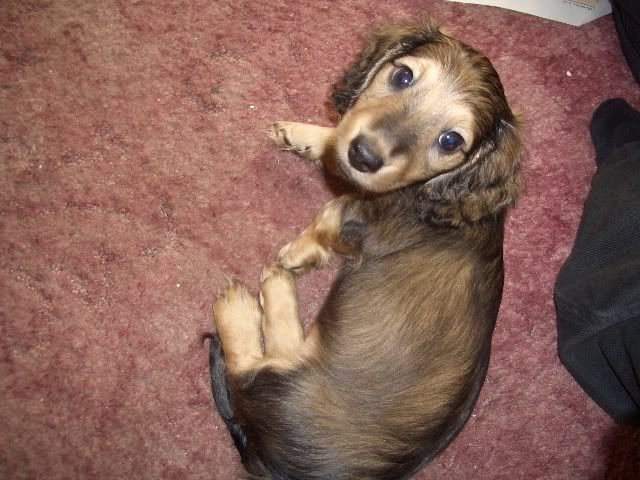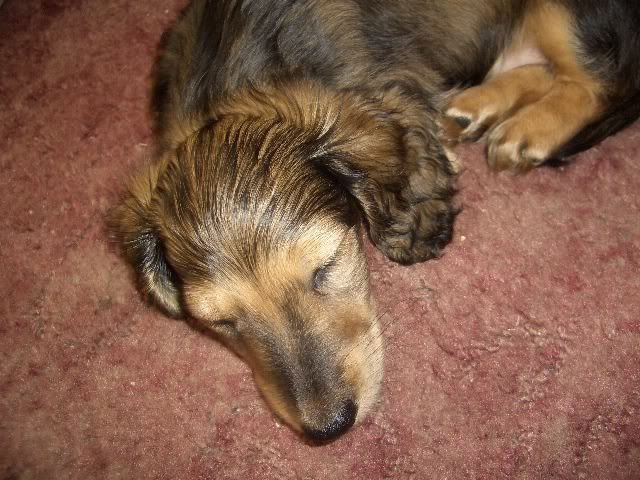 He had a lot of snuggles with everyone and Frankie mainly stayed away, but we got them this close at one point, Frankie is sat on my mum's lap: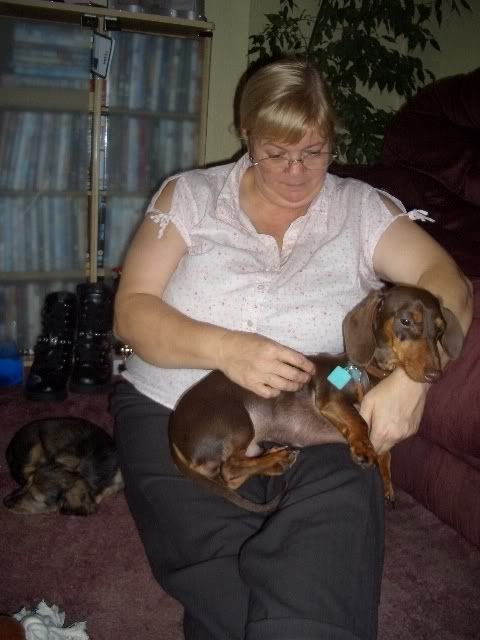 After a few hours we then loaded up the car and headed home. When we got here, it was as if Frankie was another dog entirely and suddenly wanted to be his friend...but on his terms and only when he said so...so for about an hour they were buddies, then the growling started again. Frankie is a diva haha!

Pepper has been very good at housetraining, except a couple of times, and one being where he did it on the laminate, then slipped it in...which meant he got his first bath, yay!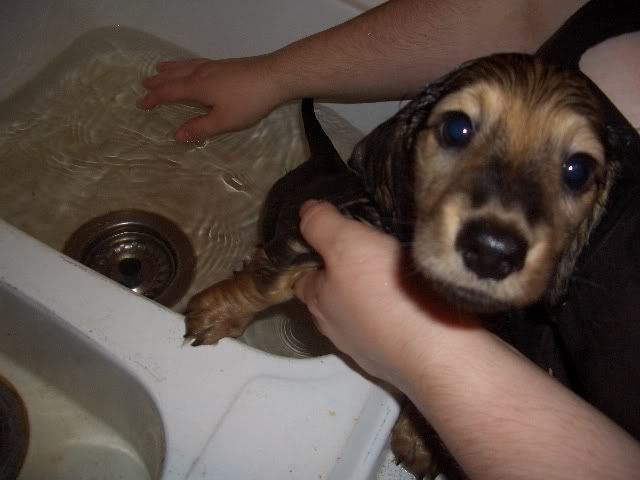 Oi! I'm nekkid!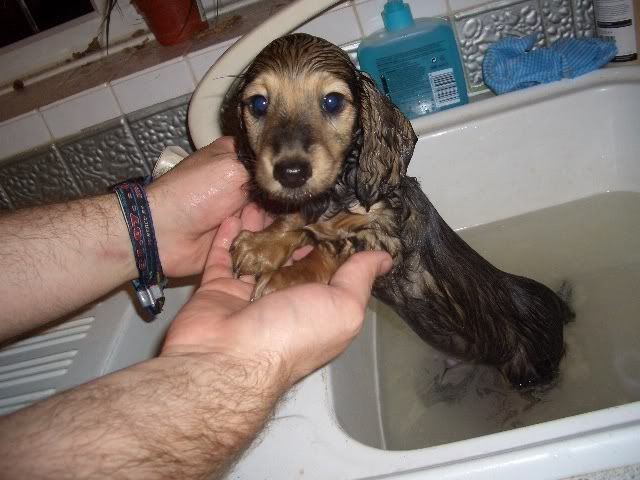 Then they had dinner: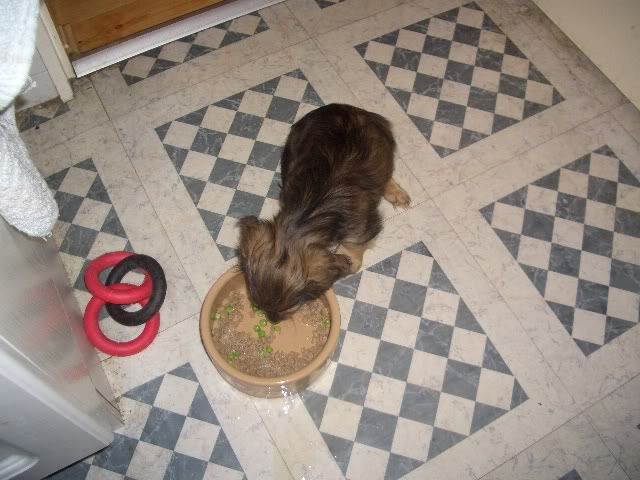 Then, all the fellas fell asleep! Typical!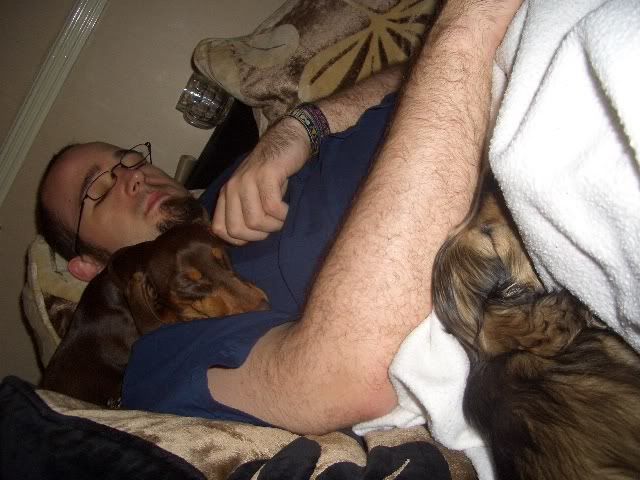 His cute little crossed legs: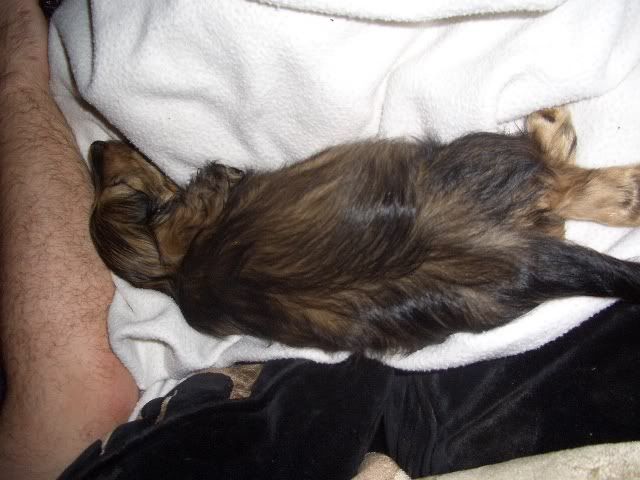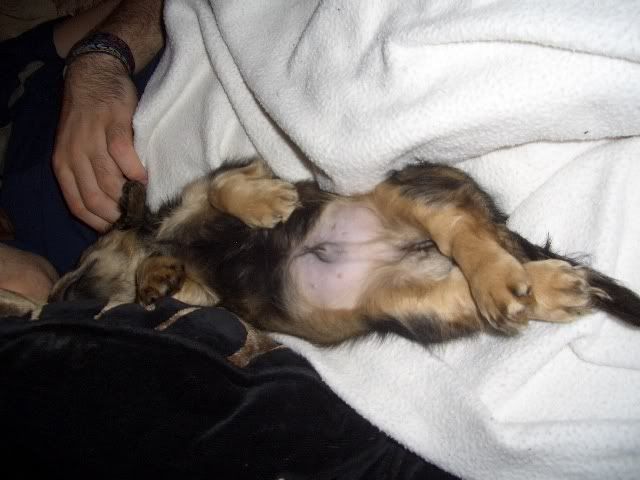 And nearly a kiss: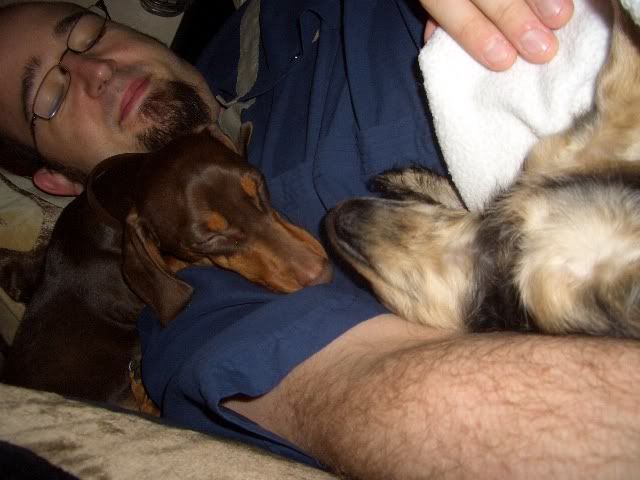 Then Frankie showed Pepper how to play with the toys...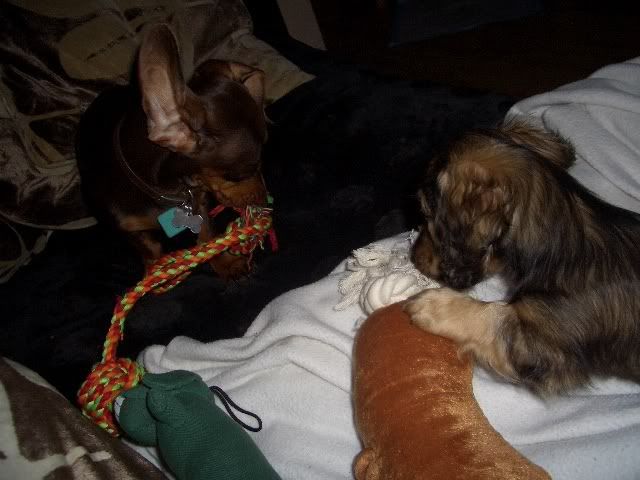 and of course, which toys he could play with haha: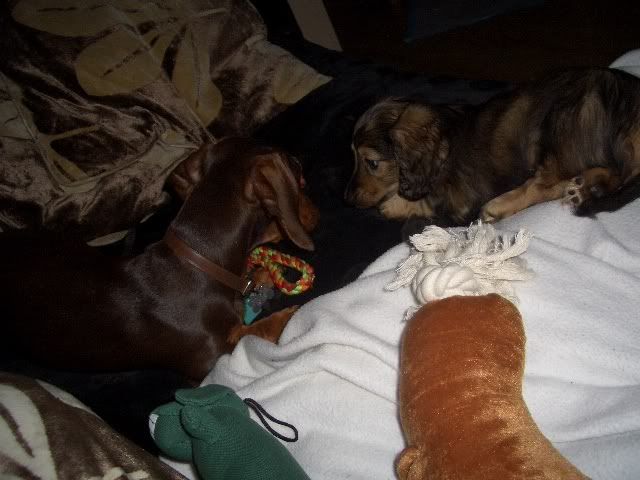 Then we all went to bed, and on Sunday I got up and sat on the sofa with the pooches, and of course they went right back to sleep, with Pepper sleeping on top of Frankie through a blanket, so thats obviously ok with the diva....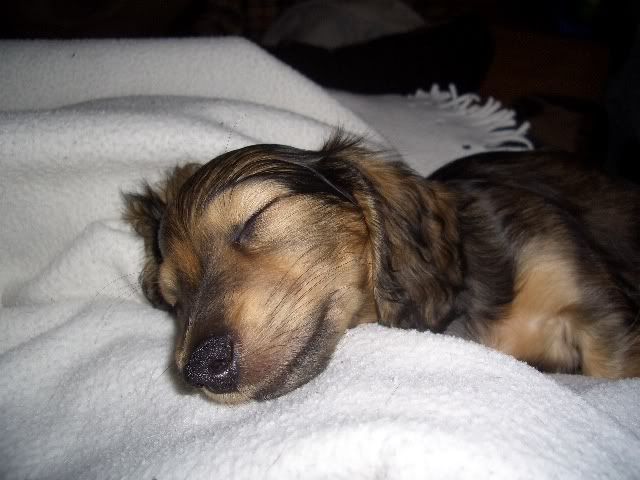 Until he notices...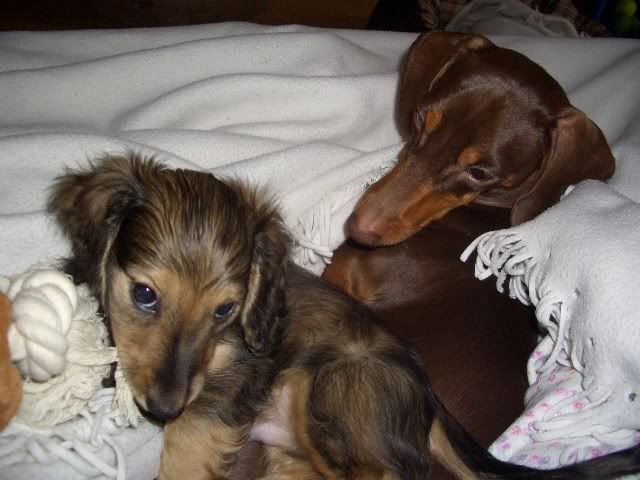 "Maybe if I hide behind my paw he'll not notice me...Yep he's looking the other way, phew!"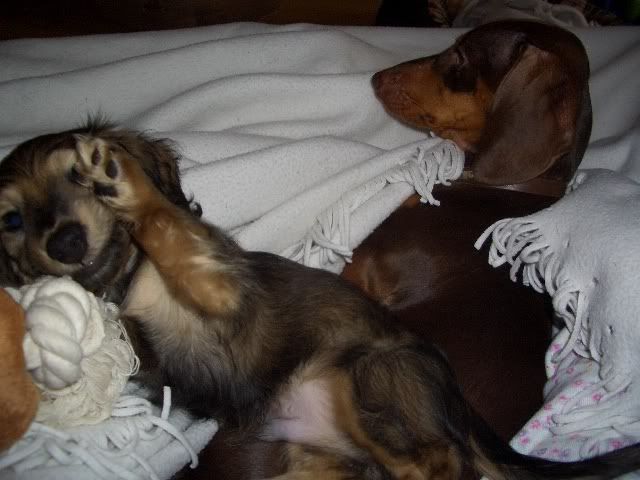 "Damn! Spotted!"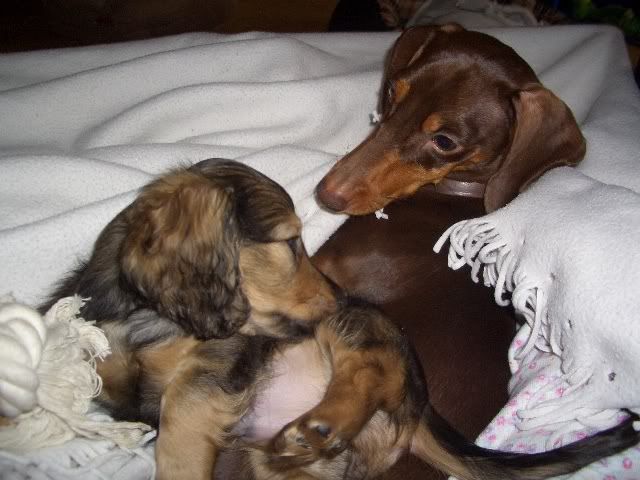 "Come on, gis us a kiss!"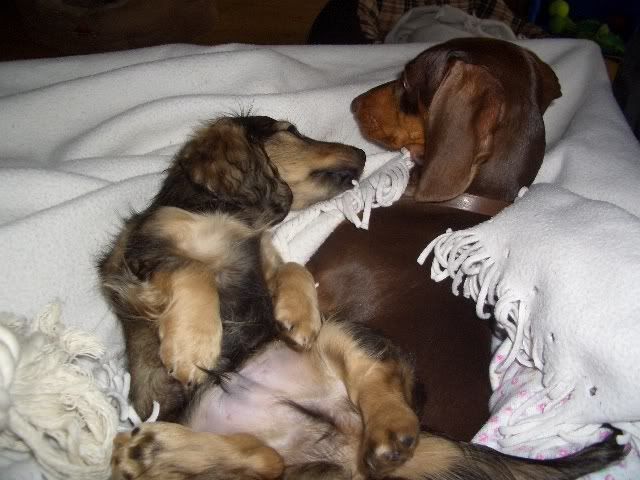 "We can use tongues if you like?"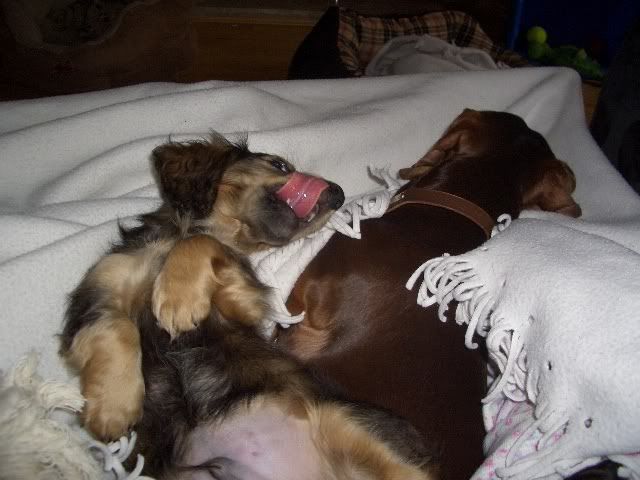 "No ok, I'll just go to sleep then zzzzz..."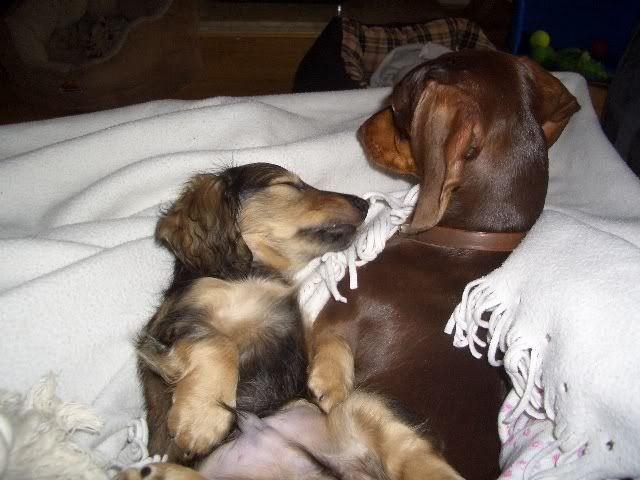 Puppy nose!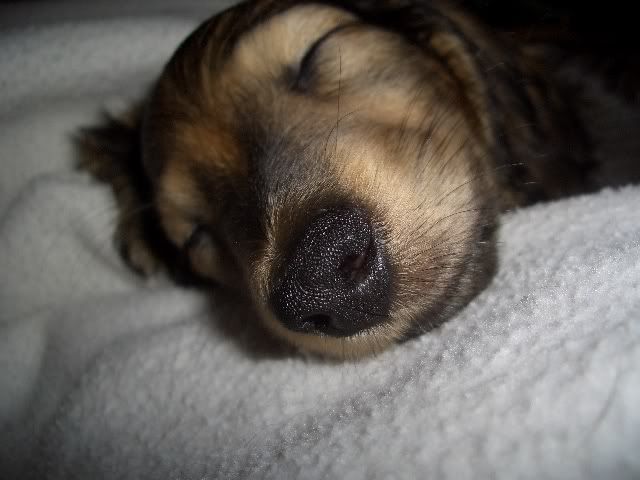 As the week has gone on they've gotten on better and better, playing, fighting, guarding the garden boundaries and scaring the postmans off together :) It's been lovely to see them getting on so well, I think Frankie has really appreciated having another pal around :)

And this is what the two of them have been doing since I've been typing this
(please excuse the rubbish camera phone pic!)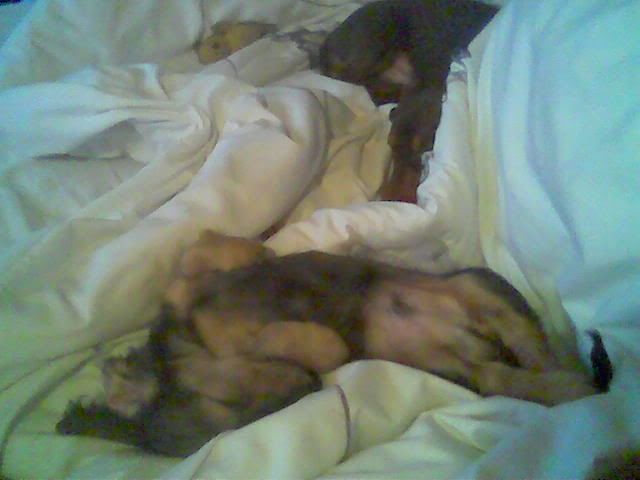 He's a cutey!